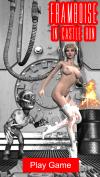 Circle: Pink Pencil
Release: Sep/17/2016
Work Format: Action
File Format: APK
Genre: Zombie, Horror, Torture
Framboise is back in your smartphones! Can you survive a 10km desperate run for your life?
Jump, Double jump, Triple jump to avoid zombies, monsters and obstacles. Speed becomes higher and higher, gameplay – harder and harder.
Enjoy this timekiller!