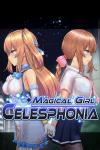 魔法少女セレスフォニア
Developer: Shimobashira Workshop
Publisher: Kagura Games
Released: 7 May 2022
Game Format: RPG
Genre: Female protagonist, Vaginal sex, Oral sex, Prostitution, School setting, Exhibitionism, Turn-based combat, Japanese game, Virgin, Group sex, Groping, Adventure, Fantasy, Rape, Corruption, Pregnancy, Anal sex, Bukkake, Masturbation, Sex toys, Tentacles, Ahegao
File Size: 2 GB
Overview:
Amane is a fairly ordinary woman living in one of the biggest cities in Japan, which has been getting more dangerous by the day.
People have been disappearing, especially young women, and before she knows it,
she discovers the reason: dangerous monsters called monstrums have been kidnapping them!
The monstrums attack her one night on her way home, and just as she's about to meet her end, her book begins speaking to her,
offering her the ultimate contract: become a magical warrior and fight the monstrums.
With her newfound powers, she can investigate monstrum appearances,
all throughout the city and stop them from taking over the world for good!​
Link 1
Link 2
Support us to get Direct Download and Premium Image Viewer on all posts!
If you like it, buy it to support the creator!
All downloads on this site are torrents and magnets. You need any BitTorrent client to download.
Don't forget to read the FAQ page if you got any errors.