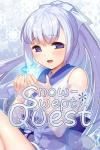 ゆきいろ*くえすと
Developer: Potatolife
Publisher: Kagura Games
Release: 2021-05-01
Game Format: RPG
Genre: Rape, Virgin, Female protagonist, Oral Sex, Monster Girl, Pregnancy, Multiple Penetration, Multiple Endings, Group Sex, Corruption, Creampie, Lesbian, Groping, Shota, Sexual harassment, Sex toys, Vore
File Size: 373 MB
Overview:
Saya is a yuki-onna girl (a type of snow demon) living a peaceful, but lonely life on the Eastern continent. Her world is turned on its head when she's kidnapped by slavers who intend to sell her on the distant Western continent. She escapes the slavers but finds herself stranded in a strange foreign land. She resolves to return to her home, but earning the money to book passage back to the East will bring her into conflict with men and monsters of all sorts, all of whom view the lovely young demon girl as a tasty sexual treat. Will Saya make it home, or does fate have something else in store?​
If you like it, buy it to support the creator!
All downloads on this site are torrent magnets. You need any BitTorrent program to make it work.
Don't forget to read the FAQ page if you got any errors.
Support us and get PREMIUM to bypass all annoying image hosts and gain access to Direct Image Viewer.
You can also download all images in 1 click!