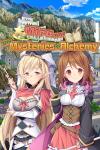 Developer: Dieselmine / Kagura Games
Release: 2020-10-16
Work Format: RPG
Genre: Monster girl, loli, Big tits, Trans/futa protagonist, Ahegao, lesbian, titfuck, Vaginal sex, footjob, Group sex, oral sex, handjob, creampie, fantasy
File Size: 549 MB
Overview:
After making a big mistake while trying to craft a potion at the alchemy university, the apprentice alchemist Mira finds that she has exposed herself to an elixir that made fundamental changes to her body. Now she must go in search of the ingredients in order to craft the antidote.​
If you like it, buy it to support the creator!
All download on this site are torrent magnet. You need any bittorrent program to make it work.
Don't forget to read FAQ page if you got any errors.
Support us and get PREMIUM to bypass all annoying image hosts and gain access to Direct Image Viewer.
You can also download all images in 1 click!