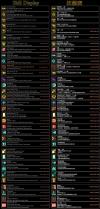 Circle:
Cinderalle Castle
Released:
Aug/08/2019
Work Format: 
Action
Genre:
Dot / Pixel, Sailor-style Uniform, Restraint, Tickling, Tentacle, Machine Sex
File size:
681.39 MB
Same Series: Arms Bless 2
A multilingual version of Arms Bless.
Please confirm system compatibility via the trial version before purchasing.
In the year 20xx…
In a secret research laboratory, the ultimate weapon was created
Her name was Beth
She was a masterpiece, born to kill
But she wouldn't follow orders, and so was branded a failure
Beth fought back against her creators, and escaped the laboratory
Then set out on a journey to the human world – To live as a human
*Basic controls*
[Z] Confirm; Speak; Examine
[X] Jump; Cancel; Menu (On world map)
[Space] Menu (In dungeons)
[Directional keys] Move
[F] Enemy scan
[F+up arrow key] Show skill display 1
[F+down arrow key] Show skill display 2
*Battle controls*
In battle, use the directional keys and A, S, D, Z, X, C, and V.
Check the skill display to learn how to activate each skill.
(Open the skill displays with F+up arrow key and F+down arrow key.)
*Activating cheat mode*
Hold down the X key for 7 seconds.
Use it when you are struggling to proceed.
#Warning#
~ Cheat mode is deactivated at the end of every stage.
~ Cheat mode can not be activated in the trial version.
~ Overusing the Z key attack when there are no enemies present may cause game performance to drop.
OS: Windows 10, 8, 7, Vista, XP
Memory: At least 512MB for Windows XP; At least 1024MB for Windows 8, 7, Vista
VRAM: At least 128MB (256MB recommended)
Other: DirectX 9.0c or better required
If any download asks for a password to unzip, the password is: fapforfun



Link 1
Link 2
Support us to get Direct Download and Premium Image Viewer on all posts!
If any download asks for a password to unzip, the password is: fapforfun
All downloads on this site are torrents and magnets. You need any BitTorrent client to download.
Don't forget to read the FAQ page if you got any errors.