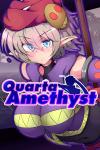 Developer:
Kudarizaka Ga-dore-ru
Publisher:
Kagura Games
Released:
2 Sep, 2023
Game Format:
RPG
Genre:
Female protagonist, Humiliation, Tentacle, Tease, Transforming, Superpowers, Big Titss, Big ass, Vaginal sex, Monster girl
File Size:
681 MBThe Olicts, a variety of monsters that prey exclusively on humanoids, are becoming abnormally active in and around Leia, with the change seeming to be inspired by a Gem Olict, the succubus-like Cloudy, who has a history with Quarta Amethyst, a knight of the Quarta Order sworn to defend the innocent from the Olict menace. What are the Olicts after, and can Amethyst brave all their traps to eliminate the threat, or will they prey on her essence?
Link 1
Link 2
Support us to get Direct Download and Premium Image Viewer on all posts!
If you like it, buy it to support the creator!
All downloads on this site are torrents and magnets. You need any BitTorrent client to download.
Don't forget to read the FAQ page if you got any errors.