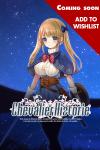 Developer:
PICOPICOSOFT
Publisher:
Kagura Games
Released:
26 Feb, 2022
Game Format:
Action
/
RPG
Genre:
2D Game, Anal Sex, Animated, Big Tits, Combat, Corruption, Creampie, Fantasy, Female Protagonist, Groping, Handjob, Internal View, Monster, Monster Girl, Oral Sex, Prostitution, Rape, RPG, Sandbox, Teasing, titfuck, Vaginal Sex, Virgin
File Size:
3.31 GB
Overview:
The fate of a captured princess lies in the hands of a single woman. Using the power of the spirits and a variety of items, the female knight Jeanne must explore the kingdom that's been thrown into chaos to save Princess Lily in this classic-style action RPG.​
Link 1
Link 2
Support us to get Direct Download and Premium Image Viewer on all posts!
If you like it, buy it to support the creator!
All downloads on this site are torrents and magnets. You need any BitTorrent client to download.
Don't forget to read the FAQ page if you got any errors.