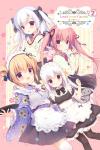 Developer: canxden
Publisher: denpasoft
Release: 2021-03-10
Work Format: Visual Novel
Genre: harem, loli, male protagonist, romance, vaginal sex, voiced
File Size: 887 MB
Overview:
Taking place months after the reopening of the café, Milk Hall Caramella, the season now shifts to summer.
The café is as busy as ever so even Ciel and Koron have come to help out.
With his grandmother's health improved, Asaki is approached by her to formally become the successor of the café.
No longer unsure of what to do, Asaki is steadfast in his goal to protect Caramella.​
Features:
Fully voiced in Japanese (except main character)
Opening and Ending theme song featuring Rira and Richer
1.5 times longer than the original Love's Sweet Garnish
Japanese, Traditional Chinese, and English language support
CG Gallery
Music Gallery
Character Designs by Miyasaka Miyu and Miyasaka Nako
Four Routes
If you like it, buy it to support the creator!
All downloads on this site are a torrent magnet. You need any BitTorrent program to make it work.
Don't forget to read the FAQ page if you got any errors.
Support us and get PREMIUM to bypass all annoying image hosts and gain access to Direct Image Viewer.
You can also download all images in 1 click!