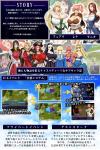 ハーレムファンタジー この世を救うは善か悪
Circle: kamichichi
Release: Japanese 2016-08-08, English 2019-12-25
Translator: Emerald_Gladiator
Work Format: RPG
Genre: Male Protagonist, Breasts, Fantasy, Harem, Breast Sex, Big Breasts
File Size: 524.32MB
Installation:
1. You need to change system locale to Japanese or use Locale Emulator.
2. Download and install RPG Maker VX Ace RTP
3. Extract and run.
* Story
Tumbling into the cave, a young man who lost his memory
explores a cave guided by a crystal and joined by 3 beautiful women.
Somewhere along the way, his quest evolves from
finding his memory to saving the world……
Will he save it with good or evil……
* Game & system
H scenes: 28
Base CGs: 39
HCGs: 254 (incl. variations)
Pose art: 300+ (incl. variations)
We're confident you can get all the way off to each scene!
A very satisfied wank-tester reported that he came to every scene in the game!
Featuring…
tentacles, goblins, lactation and vibrator-induced squirting orgasms,
pirate sex, nun sex, woman-dominates-man reverse r*pe, 3x romance scenes
with the main character, loads of humiliating assault,
… and more
Plus…
Auto save for easy stop-and-start play whenever the urge takes you
Gallery mode for revisiting your favorite scenes
Good and evil mode: how bad do you want to behave?
The player's behavior is player's choice! Are you a savior
or a sinner, will you be prudent or perverse?
Job change and activity system with 10+extra job classes!
Side view & full view or active time battle (ATB) options
Creep into bedrooms with the night prowler system!
"Guest speaker" conversations with ero-ero subcharacters!
Multiple endings depending on who you add to your harem