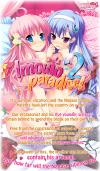 妹ぱらだいす!2 ~お兄ちゃんと5人の妹のも~っと!エッチしまくりな毎日~
Developer: MOONSTONE
Publisher: MangaGamer
Release: JP 2013-04-18 / EN 2017-12-22
Work Format: Visual Novel
Genre: ahegao, big tits, cosplay, corruption, creampie, harem, humor, incest, male protagonist, masturbation, romance, slice of life, seduction, slice of life, vaginal sex, virgin
File size: 5.01GB
Prequel: Imouto Paradise!
Sequel: Imouto Paradise! 3
This is the sequel to Imouto Paradise!.
It's summer vacation and Keiichi's parents left him with his five younger sisters to go on an overseas trip.
Now with their parents far out of the picture, his younger sisters are aggressively making their moves on him.
Of course there's no way he can hold back.