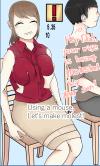 ママいじり
Circle: Sistny
Release: Nov/20/2018
Work Format: Action
Genre: Touching, Mother, Decadent/Immoral, Breast Milk, Molestation, Incest
English is the only language used for this game!
Let's molest a lactating mother behind her husband's back using a mouse.
Controls: Mouse buttons and keyboard (S to skip / R to retry)
* Please confirm system compatibility via the trial version before purchasing.
10 Stages + Bonus infinite mama touching mode
* For details,please see the enclosed operation manual.
Can skip to the stage of your choice with password;
Stage 1 to Stage 10 password: st# (Where # is the stage number)
Bonus password: bonus