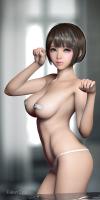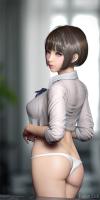 Developer: Project Helius
Release: 2019-04-11
Work Format: Simulation
Genre: 3D game, Virtual reality, Sci-fi, Male protagonist, Big tits, BDSM, Masturbation, Oral sex, Anal sex, Vaginal sex, Sex toys, Group sex, Male domination, Slave
File size: 4.73GB
Other Game: Fallen Doll: Operation Lovecraft
*Start the game with 'FallenDoll-Win64-Shipping.exe' in 'WindowsNoEditor\FallenDoll\Binaries\Win64' folder
*Torrent contain seperate files for VR or non-VR. You can choose to download only one you need in your bittorrent client. But please download all of them and help me seed if possible, thank you!
Cheats:
G: Add money
H: Recover Stamina
L: Lock Stamina/Sensitivity
Q: Skip to Next Day
U: Toggle UI Display
1,2,3,4: Toggle Male Actor Display
5: Toggle Chair Display
In summary, Fallen Doll is a real-time next-gen hentai game with VR support. Before you proceed, be informed that this game is for adults only.
For 64-bit PC only at the moment.
VR version currently supports HTC Vive, Oculus Touch and Windows MR.
"Maybe I shouldn't have told you — about it being electrical."
-Phillip K. Dick, Do Androids Dream of Electric Sheep?
Ladies and gentlemen, our most valued customers and friends, a very fine evening to you!
It's the moment we've long been waiting for – the grand opening of the Erotes Nightclub.
It is not only a place of comfort and luxury, but also a proving ground of a cutting-edge scientific achievement:
the state-of-the-art bionic humanoid robot codenamed Erika will be at your service to fulfill your wildest desire.
The recent breakthrough of synthetic tissue engineering has pushed scientific boundaries far beyond the imagination of our ancestors,
and we are delighted to have you here to behold and enjoy such a special experiment:
Is that possible to create a synthetic body indistinguishable from a real human?
Erika will be the answer. Will she be the Aphrodite we all lust for? Or merely another lifeless sex doll waiting to be disposed of?
The curtain has risen, and the show must go on!
System Requirements:
Minimum System Requirements
OS: Windows XP/Vista/7/8/8.1/10 (64-Bit)
Processor: INTEL 2 GHz Dual Core
RAM: 1 GB
Video Memory: 256 MB
Video Card: NVIDIA GeForce 6800 or ATI Radeon x1950
Sound Card: DirectX Compatible
DirectX: 9.0c
Hard Drive: 5 GB free
Recommended System Requirements
OS: Windows XP/Vista/7/8/8.1/10 (64-Bit)
Processor: INTEL Core 2 Duo 2.66 GHz
RAM: 3 GB
Video Memory: 512 MB
Video Card: NVIDIA GeForce 8800 GTS or ATI Radeon HD 3850
Sound Card: DirectX Compatible
DirectX: 9.0c
Hard Drive: 5 GB free
Changelog:
v1.31
TBD
v1.30
New Interactions:
Sexwall:
Forced Blowjob
Forced Threesome
Voluntary Footjob
Forced Footjob
Operation Bed:
Single Leg Bound Vaginal Penetration
Face Down Vaginal Penetration
Anal Drill Test
Single Leg Bound Vaginal Drill Test
Lying Vaginal Penetration
Leg Holding Vaginal Test
New Set: Manacle
Manacled Vaginal Sleep Sex
Missionary Vaginal Sleep Sex
Improvements:
(VR) Eye tracking fixed
(VR) Added camera tilt option
(VR) Oculus Touch left controller issue fixed
Lip sync improvements
Squirting effect revised
Heels can now be weared across different poses
Added quick save/load buttons for display settings
Outfits clipping issue fixes
Sound effect fixes and volume adjustments
Pole dancing now available in nightclub's tool menu
Male pov mode can be set to any male in foursome poses
Added field of view settings for male pov mode
General bug fixes