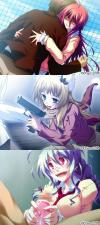 くるくる・ファナティック
Developer & Publisher: Chien
Translator: Dark Eye Translations
Release: Japanese 2008-09-26, English 2018-04-14
Work Format: Visual Novel
Genre: 2DCG, Censored, Japanese Game, Male Protagonist, Multiple Endings, Voiced, Anal Sex, Creampie, Exhibitionism, Footjob, Group Sex, Groping, Handjob, Masturbation, Oral Sex, Rape, Vaginal sex, Virgin, Sex Toys, Graphic violence, Monster Girl, School setting, Romance, YANDERE
Patch Notes:
The VN is 100% translated. Opening all CGs in the Gallery and finishing all routes – tested and working.
It is only partially edited, but still not that bad.
Rotated text in Fanuel's route – fixed.
3 crashes in Fanuel's route – fixed.
Replay Mode is not working with the English patch.
What!? Am I dead yet!? The cause of my death was probably a heavy blow on my back…, not sure. What I know now is I once died, but came back to life. However, I'll die again if I don't find the cause of my death in five days. "Well, good luck. I don't think you make it…," Fanuru, an angel who raised me from the dead, says to me. Anyway, I'll just do it! I have reliable friends, Wazuka, Matsuri, and Otogiri. I can do it! What? What is it…? Do you have something shining…? You're not the one who killed me, are you…?