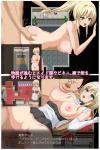 Circle: enuemu
Release: Jul/11/2013
Work Format: RPG
Genre: Fantasy, Violation, Blonde Hair, RPG, Sex, Virgin Sex, Masturbation, Group sex, Bestiality, Monster sex, Other Fetishes
She joined the Holy Paladins to defend her people from evil spirits.
The tale of Paladin Miria begins…
To battle the atrocities Miria must acquire the skill of God's Miracle from the priest.
To be worthy of such a skill she first must attain the Sacred level.
Fulfill requests by the people to raise Miria's level.
Even when their requests are highly impure!
Her Impurity will rise with each sex act,
until at last her perfect body is bared to all!
When her Sin becomes very high she will stray toward a new ending.
Miria's clothing will reflect this change.
– 33 HCG base images
– Over 300 CG variations
– Erotic pose art in town and battle
– View all events in the Memory Room after completing the game
* Please play the trial version to confirm compatibility.
* Recommend purchase with DLsite account for updates.
* Requires RPG TKool VX RTP (free).