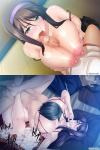 堕ちる人妻~Animation~
Circle: Black Lilith
Release: EN 2017-04-18, JP 2016-07-29
Work Format: Visual Novel
Genre: Cuckoldry, Sexual Training, Gangbang, Visual Novel, Male Protagonist, Shotacon, Drugs, Cumshot, Multiple Penetration, Nukige, Incest, Mindbreak, Slavery, Group Sex, Rape, Masturbation, Toys, Spanking, Oral Sex, Anal Sex, Voyeur, Exhibitionism, Bondage, Cheating, Pregnant, Titfuck, Lactation, Urination, Hairjob, Sex, Handjob
*Need Japanese system locale or Locale Emulator to play.
[Corrupted Wife Betrayal Sex ADV] A tale of "netori" or "cuckoldry"!
The beautiful wife of a friend, the new beautiful female teacher—–
* Featuring a built-in NEW SYSTEM with GORGEOUS CUM ANIMATIONS!
Different from the system of Taimanin Kurenai, fallen wives go down anew;
a revised system of Lilith quality COMPLETE beautiful orgasm animations!
* An adventure novel of infidelity!
The theme is "netori". SEDUCE the beautiful wife of a friend, the new beautiful female teacher—–
Seduce and coerce with DRUGS whose aroused sexual effects last YEARS,
break the chaste married women into pleasured gapefacery!
* Choose how to make the women fall!
Decide the pleasure training, resulting in very different multiple endings!
Destroyed family? Disguised pregnancy? Or perhaps you will take a new victim!?
* Atrocious love with cheating wives warped by the aphrodisiacs!
Love takes many a twisted shape behind the backs of the cucked husbands.
Acme sex in all sorts of cosplay, pigwhore mega jizz SEX shows, hentai training
and more destroy their pride and assure their shattered, broken allegiance.
Recommended for stockings and leotard fans! Must-see netori eros!
* Adapted from the bestselling 2011 title with over 1200 frames!
44 total varieties, over 290 visual variations!
The movement of variations gets special attention! Powered up dynamic production!