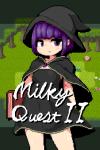 Developer:
Hack Dack Soft
Publisher:
Kagura Games
Released:
28 Jan, 2023
Game Format:
RPG
Genre:
Dot / Pixel, Anime, Loli, Nonhuman / Monster Girl, Internal Cumshot, Submissive Man
File Size:
93.7 MB
Story:
You wake up in a mysterious world with no idea of where or who you are. Why can't you remember anything? And how did you end up in this world?
After being attacked by a (cute!) monster in the forest, a purple-haired (also cute!) witch named Lululouch saves your life. And not only that, but she's willing to help you survive in this world, just so long as you help her run some errands.
Do your best to survive and find out what kind of fate awaits you!
Gameplay
Explore, search for items and materials, and of course, fight monsters! (Or run away from them!) If the enemies prove too difficult, visit a special shop where you can trade items and materials for charms that increase your stats!
Experience a unique combat system where every enemy calls for the right strategy! Learn special skills with a wide variety of effects, such as piercing the enemy's defense! Be sure to keep an eye on your opponent's status and do your best to use the right skill at the right time.
Enhance your skills with EXP and increase your stats even further! But use your EXP wisely, there are a lot of skills to choose from!
Key Features
Old-School RPG Style
Enjoy a traditional 2D RPG where you travel the world and hunt monsters for EXP while collecting items, complete with pixel graphics and catchy 8-bit music.
Strategic Battles
Fight monster girls in intense battles. Form specific strategies to defeat strong foes and topple powerful bosses.
Detailed Battle Animations
All the monster girls you'll face are drawn with detailed sprite art, and battles are fully animated.
Link 1
Link 2
Support us to get Direct Download and Premium Image Viewer on all posts!
If you like it, buy it to support the creator!
All downloads on this site are torrents and magnets. You need any BitTorrent client to download.
Don't forget to read the FAQ page if you got any errors.