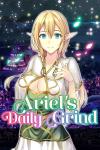 Developer:
Akamado Factory
Publisher:
Kagura Games
Released:
17 Dec, 2022
Game Format:
RPG
Genre:
female protagonist, prostitution, big ass, big tits, vaginal sex, oral sex, creampie, monster girl, spanking, group sex, multiple penetrations, titfuck, masturbation, cosplay, sandbox, point and click, adventure, fantasy
File Size:
600 MB
Story:
After her village is suddenly attacked, the elven beauty, Ariel, is taken in by her new employer. Intent on freeing herself from debt, Ariel focuses her talents to help as many customers at her new job as she can. Through the use of skills and outfits, Ariel will have to navigate her way around various customers and grind out the money to pay off her debt!
Gameplay:
Ariel can use stamina to hone her techniques through training and dance at the local tavern to raise her popularity.
She can also purchase different types of clothing, accessories, and perfumes to help improve her performance.
Techniques can be leveled while working her job. Experience towards each particular technique can be improved faster by helping customers that offer more of a challenge. However, these jobs may be more complicated than expected and can result in earning less if Ariel messes up. How you balance your risks against greater rewards is up to you!
Link 1
Link 2
Support us to get Direct Download and Premium Image Viewer on all posts!
If you like it, buy it to support the creator!
All downloads on this site are torrents and magnets. You need any BitTorrent client to download.
Don't forget to read the FAQ page if you got any errors.