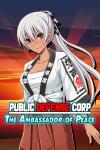 Developer:
Clymenia
Publisher:
Kagura Games
Released:
28 Jun, 2022
Game Format:
RPG
Genre:
Rape, Female Protagonist, Exhibitionism, Corruption
File Size:
354 MB
Note:
This is a short standalone DLC of the main game: Public Defense Corp
Overview:
Japan is experiencing a period of relative peace now that Haruka's fought off most of Jakou's top officers. She continues training to keep in top form since no one knows when they'll strike again, but she hasn't had to fight in more than a month. Just when she's starting to get bored, her staff puts forward a wonderful idea that'll allow her to help her country without fighting. She can become the tourism ambassador for a town that's been struggling in the wake of the destruction caused by Jakou! There's no one better than famous superstar Haruka to kick-start the economy and help tourism flourish once more!​
Link 1
Link 2
Support us to get Direct Download and Premium Image Viewer on all posts!
If you like it, buy it to support the creator!
All downloads on this site are torrents and magnets. You need any BitTorrent client to download.
Don't forget to read the FAQ page if you got any errors.