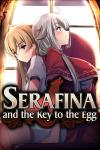 Developer:
Hasoyua
Publisher:
Kagura Games
Released:
25 Jun, 2022
Game Format:
RPG
Genre:
Female Protagonist, Anal Sex, Ahegao, BDSM, Big Ass, Big Tits, Bukkake, Corruption, Creampie, Drugs, Female domination, Group sex, Groping, Humiliation, Lactation, Male Domination, Masturbation, Multiple Penetration, Oral Sex, Pregnancy, Prostitution, Rape, Sexual Harassment, Shota, Sleep Sex, Stripping, Tentacles, Teasing, Titfuck, Transformation, Vaginal sex, Virgin, Voyeurism
File Size:
753 MB
Serafina inherited the title of True Maiden, and with it, the responsibility of wielding her clan's treasure, the Key to the Egg.
However, that treasure was stolen before she was even born, and the burden of an empty title left her disaffected with the ancient customs and taboos she was expected to live by. Now, the Key to the Egg has reappeared, and Ange, another member of the clan, has broken the law against leaving their hidden village and gone out to retrieve it.
Ange plans to claim the title of True Maiden for herself, then use the Key to the Egg's power to reshape the clan, then the world to her liking. Serafina has no attachment to her title, but she sets out to spoil Ange's ambitions for reasons of her own.
Link 1
Link 2
Support us to get Direct Download and Premium Image Viewer on all posts!
If you like it, buy it to support the creator!
All downloads on this site are torrents and magnets. You need any BitTorrent client to download.
Don't forget to read the FAQ page if you got any errors.