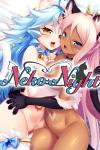 Developer:
CHAOS-L
Released:
2022-05-31
Game Format:
Visual Novel
Genre:
male protagonist, monster girl, vaginal sex, lesbian, oral sex, creampie, big ass, big tits, romance, wholesome, fantasy, adventure, voiced, titfuck, groping, multiple endings
File Size:
617 MB
Story
It was business as usual in your life as a freelance writer, until you were tasked with writing about your first sexual experience. You try your best, but how can you write about something that never happened?
There is a knock at your door. Who could it be?
Standing at your doorstep, drenched from the rain, is a young, beautiful… catgirl?! She seems to know you, yet you have no recollection of her. She claims to be on a divine mission – to make a baby with you! But she's not the only unexpected guest. A second catgirl shows up soon after with the same higher calling…
This must be a dream, right? Well, you might as well have some fun while you find out.
Features
A fun nukige story from Chaos-L, maker of Meteor Pendulum Heart.
Sensual ASMR scenes, best enjoyed through your headphones.
Fully voiced (of course) with steamy breaths, loving licks, and plenty of sexy noises.
Catgirls!
Link 1
Link 2
Support us to get Direct Download and Premium Image Viewer on all posts!
If you like it, buy it to support the creator!
All downloads on this site are torrents and magnets. You need any BitTorrent client to download.
Don't forget to read the FAQ page if you got any errors.