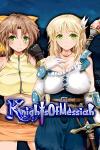 ナイツ・オブ・メサイア【真実の答え】
Developer: Circle Gyu
Publisher: Kagura Games
Released: 28 May, 2022
Game Format: RPG
Genre: adventure, NTR, big tits, big ass, oral sex, vaginal sex, groping, teasing, creampie, pregnancy, fantasy, male domination, multiple endings, exhibitionism, cheating, virgin, romance, animated, ahego, prostitution, female Protagonist
File Size: 1.82 GB
Story
In a war-torn world, the country of Mordouna struggles to survive. Its people are starving from sky-high taxes and dying on the front lines.
Mordouna's beautiful princess, Alicia, fights alongside her friends as she tries to save her country. Follow their epic story as they battle monsters, enemy armies, and rebels in this fantasy role-playing game.
Can these heroes win against the odds while still keeping their dignity?
Gameplay
Level up and learn new skills and combos to defeat your enemies in turn-based combat.
Unlock different endings depending on the choices you make and the relationships your heroes forge.
Key Features
A Fantasy Role-Playing Game
Level up and equip your heroes to overcome powerful enemies.
Hand-Drawn Art
Cutscenes and in-battle cut-ins are all hand-drawn.
A Large World to Explore
Follow the main quest through many different lands and unlock side quests along the way.
Link 1
Link 2
Support us to get Direct Download and Premium Image Viewer on all posts!
If you like it, buy it to support the creator!
All downloads on this site are torrents and magnets. You need any BitTorrent client to download.
Don't forget to read the FAQ page if you got any errors.