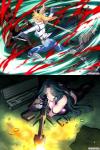 対魔忍 紅
Developer: Black Lilith
Released: 2015/09/25
Translator: Rattan Man Translations
Game Format: Visual Novel
Genre: Ahegao, Anal Sex, BDSM, Bukkake, Big Tits, Censored, Creampie, Female Protagonist, Group Sex, Handjob, Japanese Game, Lactation, Lesbian, Monster, Multiple Endings, Multiple Penetration, Oral Sex, Scat, Sex Toys, Sexual Training, Slave, Tentacles, Rape, Virgin, Voiced
File Size: 873 MB
Notes:
1. Full Save included
2. Japanese system locale or locale emulator is required
https://xupefei.github.io/Locale-Emulator/
Overview:
Over 330,000 copies sold!
Lilith's incredible Taimanin series
sees the birth of a new heroine!
* Top industry talent
From Kazuhiko Iida, creator of "Witch in Gleamgarden" and "Cartagura";
in collaboration with "Taimanin" and "Kangoku Senkan" series' Ittousai Sasayama;
featuring artwork by ZOL of the best-seller "Himekishi Lilia"
and the first-time collaboration of Lilith and director Masashi Haruyama!!!……
Lilith proudly presents a new side of the Taimanin world;
a return to roots under the ultra hardcore Black Lilith label…
* Too extreme for Taimanin Asagi
A Near Future Kunoichi-Breaking ADV
packed with dangerously excessive XXX!
Extra special CAUTION is warranted!
* New and altered features
We've made changes to the system for the better:
– refined text display speed settings
– auto mode display speed settings
– new font
– refined message window transparency
– skip feature for already-read portions
– built-in sound mode
– refined volume controls
– refined character voice volume
– save slots increased from 40 to 180
and other refinements and tunings for improved play
* Story
Prepare for a demon-slaying tale heretofore untold!
She is Taimanin, clad in shadow… The so-called "Crimson Princess Annihilator"…
A half-vampire burdened by a destiny of blood and darkness,
she fights daily to extinguish evil—
Her name is Kurenai.
Link 1
Link 2
Support us to get Direct Download and Premium Image Viewer on all posts!
If you like it, buy it to support the creator!
All downloads on this site are torrents and magnets. You need any BitTorrent client to download.
Don't forget to read the FAQ page if you got any errors.