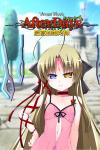 Studio:
Ninetail
Released:
March 24, 2022
Game Format:
Visual Novel
File Size:
168 MB
Hailing from one of dualtail's most popular titles, VenusBlood FRONTIER, the popular heroine, the Absolute God Odin, is here with her very own afterstory!
Who doesn't love a good story about night crawling?
Following the law route of the base game, Odin, who has become the mistress of Loki's harem, uses various different methods and techniques in order to seduce Loki. Ah, but of course Loki himself is no stranger to these techniques, and he, too, goes hard with Odin.
Odin, clad in a sexy negligee, has a whole new unique standing portrait! Do enjoy your time of rest and relaxation in the Overlord's harem.
STORY
Having conquered the Floating Continent of Yggdrasil, the Overlord Loki began building his new empire. At the same time, the Absolute God Odin who was by his side began construction on the 'inner palace', an inner sanctum of sorts within his palace on Valhalla, where only he and his women are allowed access.
"Surely this is a necessary thing for you, Prince. A place where you can rest and relax…"
The plan was to create a safe space to rear the children of the Overlord, raising them into worthy successors. With such thoughts tucked away in the back of her mind, Odin approached Loki, who had come to inspect the place…
Their passionate night together has only just begun…
Link 1
Link 2
Support us to get Direct Download and Premium Image Viewer on all posts!
If you like it, buy it to support the creator!
All downloads on this site are torrents and magnets. You need any BitTorrent client to download.
Don't forget to read the FAQ page if you got any errors.