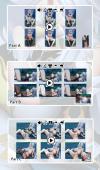 ギョウコウ – 同人動画 (ぎんハハ)
Circle: Ginhaha
Release: Feb/23/2021
File format: MP4
Genre: Clothed, Breasts, Girl, Outdoor, Bukkake, Internal Cumshot
File size: 4.76 GB
An H video featuring Ningguang.
MP4 format
Clothing variations: 5
Large penis variations: 6
Total: 12
Runtime: 3 minute 50 seconds
3406×2354 resolution, 60FPS
Voice included.
Link 1
Link 2
Support us to get Direct Download and Premium Image Viewer on all posts!
If you like it, buy it to support the creator!
All downloads on this site are torrents and magnets. You need any BitTorrent client to download.
Don't forget to read the FAQ page if you got any errors.