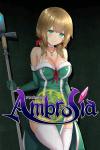 Developer: Shimobashira Workshop
Publisher: Kagura Games
Release: 2021-1-30
Work Format: RPG
Genre: Anal Sex, Corruption, Creampie, Exhibitionism, Fantasy, Female Protagonist, Group Sex, Groping, Humiliation, Monster, Monster Girl, Multiple Penetration, Oral Sex, Prostitution, Rape, Religion, Sexual Harassment, Slave, Turn Based Combat, Vaginal Sex, Virgin
File Size: 1.23 GB
Overview:
In order to rescue her captured friend, the apprentice priestess, Flode, heads to the isle of Cerbes.
But now that she's there, she must work and fight to earn enough money to get by on the isolated island.
Luckily for her, she has a deity lending its power to protect her from the evil she'll encounter.​
If you like it, buy it to support the creator!
All downloads on this site are a torrent magnet. You need any BitTorrent program to make it work.
Don't forget to read the FAQ page if you got any errors.
Support us and get PREMIUM to bypass all annoying image hosts and gain access to Direct Image Viewer.
You can also download all images in 1 click!