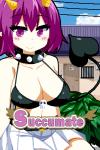 Developer: Dojin Otome
Publisher: Kagura Games
Release: 2020-11-21
Work Format: Simulation
Genre: Male Protagonist, Milf/Married womens, Multiple endings, Animated scenes, Cheating, Japanese game, Harem, Monster girls, Succubus
File Size: 823 MB
Overview:
It's just another boring summer day. You're dying for a little excitement in your life, when you come home and find out that you've got an unexpected guest, a succubus by the name of Lilim. She informs you that she's come from the demon world to collect human energy from semen, and she wants you to help her meet quotas until the end of the month. But there's talk of strange deaths going around town. Single men living alone have been found emaciated in their apartments. Could Lilim be involved? Might you be in danger? You must perform your own investigation to find out these answers.
If you like it, buy it to support the creator!
All download on this site are torrent magnet. You need any bittorrent program to make it work.
Don't forget to read FAQ page if you got any errors.
Support us and get PREMIUM to bypass all annoying image hosts and gain access to Direct Image Viewer.
You can also download all images in 1 click!