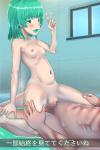 ライブ出産 スライム娘リィムの場合
Circle: Miyuhodou
Release: Jun/19/2019
File Format: MP4
Genre: Cross-section View, Anime, Nonhuman/Monster Girl, Pregnancy/Impregnation, Breast Milk, Childbirth
File Size: 33.57 MB
A slime girl is impregnated, gets pregnant, and gives birth in this MP4 format video!
Includes sound effects and BGM.
600×900 resolution / MP4 file format
A part: Pregnancy – 1:36
B part: Birth – 1:33
If you like it, buy it to support the creator!
All download on this site are torrent magnet. You need any bittorrent program to make it work.
Don't forget to read FAQ page if you got any errors.
Support us and get PREMIUM to bypass all annoying image hosts and gain access to Direct Image Viewer.
You can also download all images in 1 click!