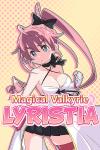 魔法闘姫リルスティア
Alias: Magical Fighting Princess Lilstea
Developer: ShiBoo
Publisher: Kagura Games
Release: Jul/17/2021
Work Format: RPG
Genre: Female Protagonist, Magic, Violation, Shame/Humiliation, Girl, Magical Girl, Virgin Female, Ryona/Brutal
File Size: 674 MB
The evil organization Fakker has been terrorizing the residents of the city at night, abducting women left and right. One woman stands against them: Magical Valkyrie Frostia, a transforming hero who takes down any villains who stand against her. One day, she saves another girl with the potential to transform and fight alongside her. Will her new friend be able to transform into Magical Valkyrie Lyristia and stop Fakker's misdeeds for good, or does a bad ending await them both?
If you like it, buy it to support the creator!
All downloads on this site are torrent magnets. You need any BitTorrent program to make it work.
Don't forget to read the FAQ page if you got any errors.
Support us and get PREMIUM to bypass all annoying image hosts and gain access to Direct Image Viewer.
You can also download all images in 1 click!