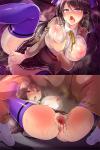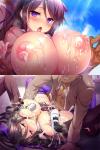 足りてないいじめハメられっ娘 冬愛ちゃん
Circle: PINPOINT / KINGPIN / PINPOINT QUICK
Release: Jun/01/2018
Work Format: Visual Novel
Translator: Lewd Rider Ero
Genre: Successive Orgasms, Ahegao/Gapeface, Breast Milk, Gangbang, Big Breasts, Voluptuous/Plump
File Size: 1.44GB
You might need to Japanese system locale or locale emulator to play
The bullied is 1,000 times guiltier than the bully—
* Story
Fuyua Utagawa is the most "pitiful" girl in the class.
Not only her strangely big breasts and crazy dress sense,
but also the way she speaks, wit, personality, body odor and manner…
Everything is "insufficient" so annoys classmates,
making her a target of bullying in the class.
She gets molested every time she takes the train.
Gets splashed with cold water by classmate girls in toilets.
A deodorizer is put on her desk.
Boys get uncontrollable sex drive toward Fuyua's large breasts
and body odor, repeating sexual violence as if it's an extension of bullying……!!!
However, Fuyua holds a secret in her heart.
Thanks to her large titties, her online broadcasting channel attracts a number of viewers.
Her pseudo-romance relationship with her fans becomes closer and closer
along with Fuyua's growing stress, gradually trespassing into the area of forbidden acts…
Since she is "insufficient", she isn't aware of the risk that schoolmates come to
know about her erotic broadcasting. Seeing Fuyua's escalating activities in her
channel, students' frustration is about to explode……
Thus, the extremely masochistic girl Fuyua's sensual & vulgar story of bullying begins!!
The girl depicted by an artist Sanshokuamido. face hardships below!!
– masturbation in a humiliating position
– anal teasing, molestation and orgasm on the train
– water splashing bullying in women's restroom, cum
– loss of virginity with ahegao double peace (V hand gestures with gapeface)
– endless nipple teasing and milk-spraying orgasm
– choking, trampling both breasts, violent sex
– anal r*pe, peeing into anal
– streaming vulgar masturbation online
– lovey-dovey sex with a creepy nerd
– licking toilet
– drinking men's pee > kicked into the stomach and vomits it out
– m*ntos + cola spray from ass
– broadcasting defecation
– becomes fatty and turned on under the effect of a drug for cattle
– broadcasting an offline meeting with no guests
etc….
Lots of depictions of breast milk, anal and vulgar stuff.
The more times she is regarded as a cumdump,
the more she becomes stupid and lewd…!
Please give her affection, or a hatred if you like!