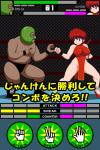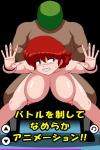 Circle: moyasix
Release: Apr/19/2020
Work Format: Action
File Format: HTML/ HTML5+JavaScript
Genre: Breasts, Anime, Fighting/Martial Arts, Internal Cumshot, Wrestler/Fighter, Big Breasts, Ryona/Brutal
File Size: 128.51MB
*Most in-game UI is in english
A refined version of PIGTAIL FIGHTER, with a new animation.
—————————-
Game
—————————-
A rock-paper-scissors battle with a pig-tailed martial arts girl!!
Win, and deal damage. Lose, and you take it.
The enemy uses completely random selection,
so it's all up to your luck and use of combos.
Win battles to unlock the animation.
Contains 1 animation from 3 perspectives and speed-toggle.
+ Bonus mini-game included
* Can be played on smartphone, depending on device power.