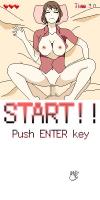 ママを妊娠させるゲーム
Circle: Sistny&Anasis
Release: Nov/23/2019
Work Format: Action
Genre: Dot/Pixel, Internal Cumshot, Pregnancy/Impregnation, Breast Milk, Incest, Mother
File Size: 21.89MB
Other Game: Can you make mom pregnant 2
This is an escape game.
Avoid being hit by the flying object, and help bring the son's semen to his mother's pussy.
Contains 5 pixel art animations.
Skip function included if you don't feel like clearing the game.
Bonus room included for those who only want to see the sex scenes.
Passwords can be entered at the title screen.
Press File(F) to bring up the password field.
Press the ESC key to exit the game.